Original:
viewtopic.php?f=1&t=88981&start=30#p1174361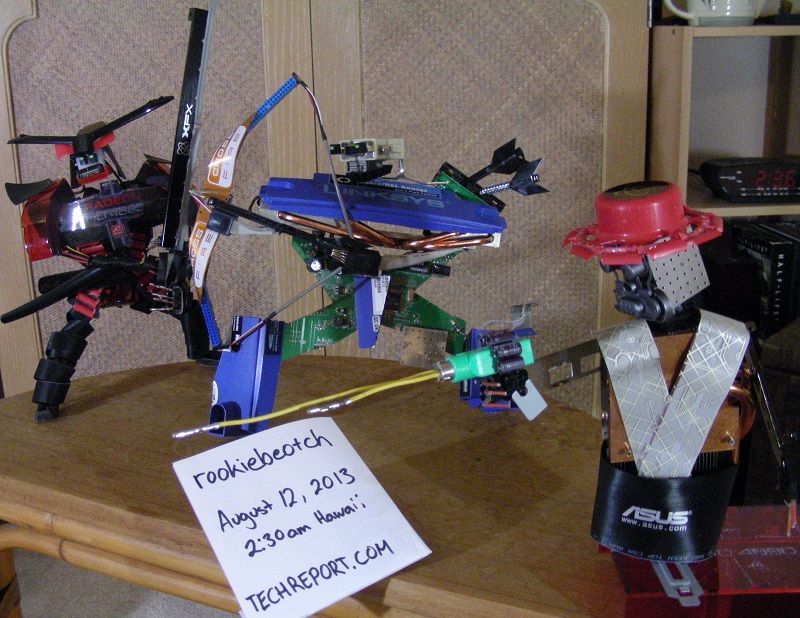 Due to large sizes, I started a Flickr account. You have to visit link and rightclick to view original size. I ID'd the parts in some of the pics. I included some of my planning files like the initial source material and my final rough draft. I also used a cool Ironman art to guide my body part proportionings. I also included the back shot of each figure so you can see how much I cheated the camera.
Samurai ID
http://flic.kr/p/fu6MxT
Samurai close
http://flic.kr/p/fu6MxK
Samurai top
http://flic.kr/p/fum7kY
Samurai back
http://flic.kr/p/fu6MAR
The Samurai is the lightest of the 3, no heatsink. His body is fleshed out with keyboard keys, although it is hard to notice unless you look at his messy back. In addition to the general frame of the figure, an additional line of coathanger material had to be run down the left arm to support the solid metal sword. Dremeling the gpu cooler housing was difficult, at fast or low speeds the plastic would melt away from the cut path and solidify next to the blade. Then the entire housing would vibrate and begin to heat up until it was too hot to hold in any position. I felt particularly lucky in finding suitable Katana and Wakizashi scabbards.
Archer ID
http://flic.kr/p/fum88E
Archer back
http://flic.kr/p/fum8b1
The Archer is extremely top heavy. I had originally intended to layer PCB paneling to form armor similar to the samurai's but it became obvious that cutting the PCB with the dremel would create excessive toxic fumes. I just quickly made some crude cuts and was done with it. Notice his ethernet port quiver stores the majority of the arrow length in cyber space! Just kidding, its another cheat.
Gunslinger ID
http://flic.kr/p/fum7N1
Gunslinger back
http://flic.kr/p/fum7ZQ
The Gunslinger was always only meant to be half a robot. The camera angle was going to hide his missing lower half. He is extremely dense, not only because of the heatsink, but the blower fan hat is super heavy. I had to shove all sorts of random plastic struts into his head and I dumped an entire stick of glue in there just to keep his head on.
draft1
http://flic.kr/p/fum7Ph
draft5
http://flic.kr/p/fum7E5
proportions
http://flic.kr/p/fu6MGn
As the 'draft5' pic shows I went into the build with a plan. I blocked out sections of each figure in hopes that it would give me a guide when cutting out parts. Of course that guide would only last a quarter of the way through each figure before being discarded. I also used the ironman pic to help me proportion body parts. That reference was quickly ignored as well. The omission of the kraken was a shame, but I did not have ready the parts necessary for building a monster face and it was too late to start up the dremel.
The photo taking was my biggest disappointment. I had originally planned to be done by sunset. I was really frustrated at my inability to scrap together enough lighting for a decent photo. So at that point, I had what I was ever going to have and it turned out to be enough.
Thank you all for your compliments. Thanks to NewEgg for donating a compensation for a fraction of the shipping fees I've handed them over the years (Hawaii has its negatives too)
. And most thanks to
THE
TechReport for being cool and pulling me in for dozens of visits a week checking for updates. Its is definitely part of my internet routine. Ah **** its 230am again.