So I'm trying to set-up a simple FTP server so that my sister and I can share files across the country using my Windows 7 Home Premium x64 computer. Oh, and this thread search approved.
I'm using Filezilla and am connected through the Internet via a Speedtouch 516ADSL modem. No router. I get Filezilla configured and started, but am having some problems connecting through my own browser getting a "connection timed out error. The server at XX.XXX.XXX.XX is taking too long to respond."
Filezilla server is running. I connect using the default 127.0.0.1:14147 and it's running. Users and shared drives configured.
In Windows Firewall, I've set Filezilla to both home/work (private) and public.
In my modem settings, I've configured both FTP and Filezilla to point to my computer, Corey.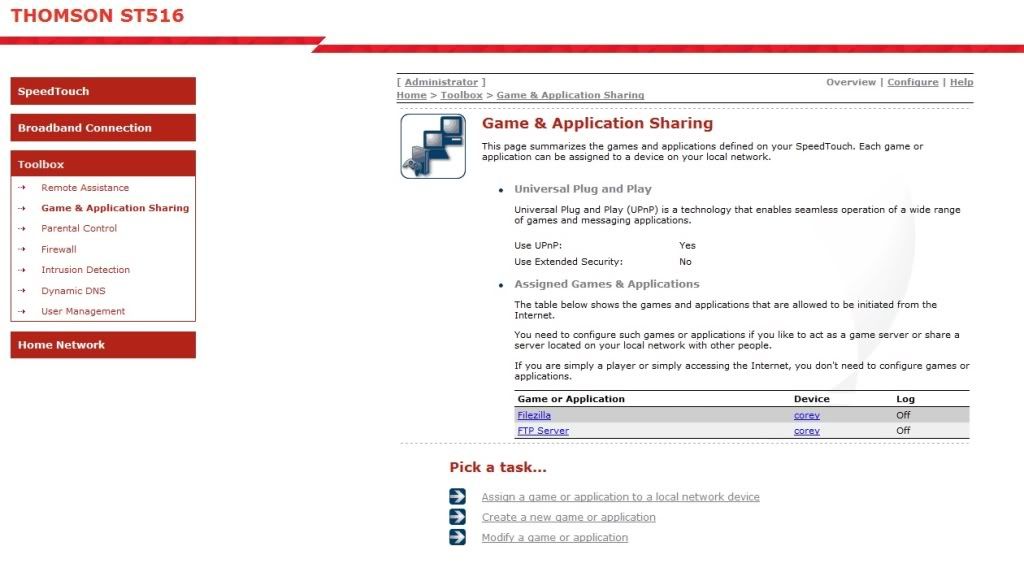 And here you can see my computers settings:
In Filezilla -> Edit -> Settings -> General Settings -> IP bindings, "Bind the server to the following IP address", I set this to my external IP, the one that my sister would be using when she connects.
In General settings -> Passive Mode settings, "External Server IP Address for passive mode transfers:", I set it to: "Use the following IP" and entered my external IP. "Don't use external IP for local connections" has been unchecked.
I'm a little stumped. It should be pretty straight forward, but I've been banging my head against this for a while. Can you guys offer any help? I can take what ever print screens you need.