A movie that should be required viewing for anybody is The Longest Day about the D-day landings in Normandy.
The first act of the film places a great deal of emphasis on the dicey weather conditions and while the Germans knew that there was going to be an invasion somewhere, someday, it was not going to be at Normandy and not on June 6.
There's a classic scene from a German bunker
when the Allied invasion fleet first shows up.
Even if you don't speak German or have subtitles turned on, you get the point of the scene. In slightly more detail, the guy in the bunker is calling his superior and telling him about the 5,000 ships in the invasion fleet (actually somewhat less than the over 6,000 ships including landing craft and naval warships). His arrogant superior says that the Allies can't possibly have 5,000 ships. Well, history told us who was right.
Well, that's pretty much what Intel showed today with multi-die Icelake Xeon parts where
each die
is packing 4 stacks of HBM2 when certain "experts who are under magic NDAs" around here who -- unlike me -- didn't accurately call what AMD was doing with Epyc 2, also had the arrogance to claim that Intel couldn't produce an x86 part with HBM2 when its first-generation 64+ core Xeons with HBM run more supercomputers than will ever rely on an Epyc 2 for compute power. Well they did. Here's an initial photo: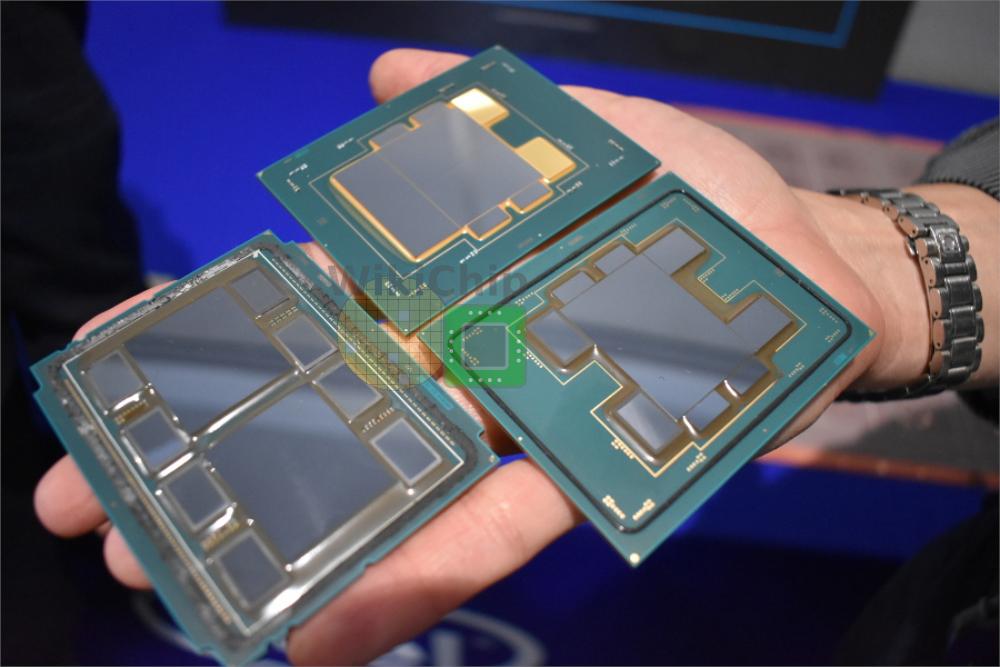 Look at the one on the left, while the two on the right are specialized parts (at least the lower right-hand one is an FGPA with HBM and high-performance I/O transceivers).
Note the notching in the chip on the left that clearly indicates a socketed part, while the more specialized chips are not keyed for sockets.
Here's a more detailed view of that part:
Ever wonder how Intel was able to put Ice Lake with all that compute power into a rather measly 8-channel platform? Well, having just as much HBM2 (or more) as any high-end enterprise GPU sure helps a bit. But let's all go back to calling Ryzen2 a miracle since an 8-core chiplet gets all of 1/2 the write bandwidth of a quad-core Kaby Lake from 2017.
Now maybe you don't think that could possibly be Ice Lake. Maybe it's the world's first EMIB connected GPU with unheard of HBM2 capabilities that's also clearly self-hosting since it doesn't have to act like an add-in card since it can use a standard high-end socket. OK, maybe it is. Maybe they are the world's first socketed, self-hosting FPGA's in a dual-die configuration! Ok sure...looks like Intel still won in either event.
Incidentally, all of this was shown off at Intel's package day. And believe me, they have working technology that's light years ahead of putting some traces on a PCB like in the first commercially successful MCM chips that they debuted over 10 years ago.