Crosslink -
Intro
,
Part 2
Whenever I see reviews of the EPIA boards, I never see gaming benchmarks. Whoever it is writing the review points out how fast a file could be encrypted, how much CPU was used playing back a DVD, how long it took to copy files from one place to another. All of which are excellent measures, as long as all you plan on doing is encrypting your DVDs and transferring them places.
I want to see how these boards will perform as a standard desktop. We already know they're sufficient for those applications mentioned above, but what about games? What about raw performance?
We'll start with a look at some artificial benchmarks from SiSoft Sandra 2004 SP2b and 3DMark2001.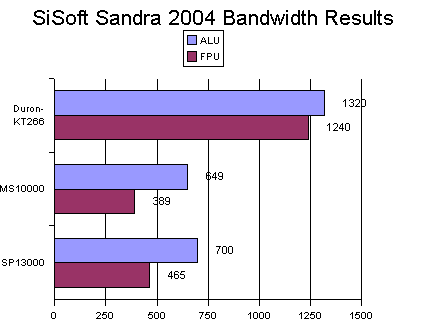 Kicking things off, our 5 year old system is beating the snot out of the much newer EPIA boards. With a theoretical bandwidth cap of 2100 MB/s for the Duron & MS10000 systems which are using DDR266 memory, 30% ALU bandwidth is not an impressive yield for the MS board.
More importantly, the SP13000 is using DDR400 memory on a faster front-side bus, but only shows a marginal improvement on the MS10000. If we compare actual to peak theoretical, with the SP board only getting about 21% of maximum, we're actually taking a step back. That indicates that the EPIAs have a bottleneck somewhere – probably the C3/Eden CPUs.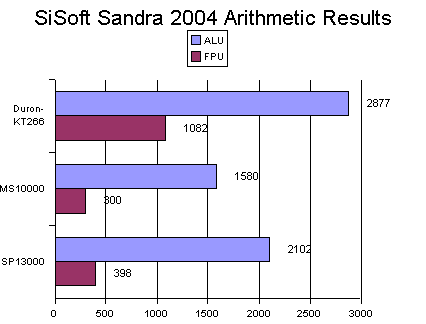 The results from the arithmetic & multimedia CPU benchmarks seem to agree with that hypothesis, as the 700 Mhz Spitfire continues to whallop the competition. Although the SP does show marked improvement in the multimedia results, its C3's arithmetic FPU performance does nothing to seperate it from the Eden processor in the MS10000.
Overall, it seems like just a little more speed is necessary to push the C3 processor up to the same level as the Duron – perhaps this is something that's been resolved with the inclusion of the 1.5 Ghz C7 in the latest EPIA boards.