Title: Acrobots to the Rescue!
I came home today, and lo, there was trouble in Silicon Alley! Something traumatic happened; I'm not sure what it was, but I had just enough time to setup my camera and catch my Acrobots saving each other from the wreckage: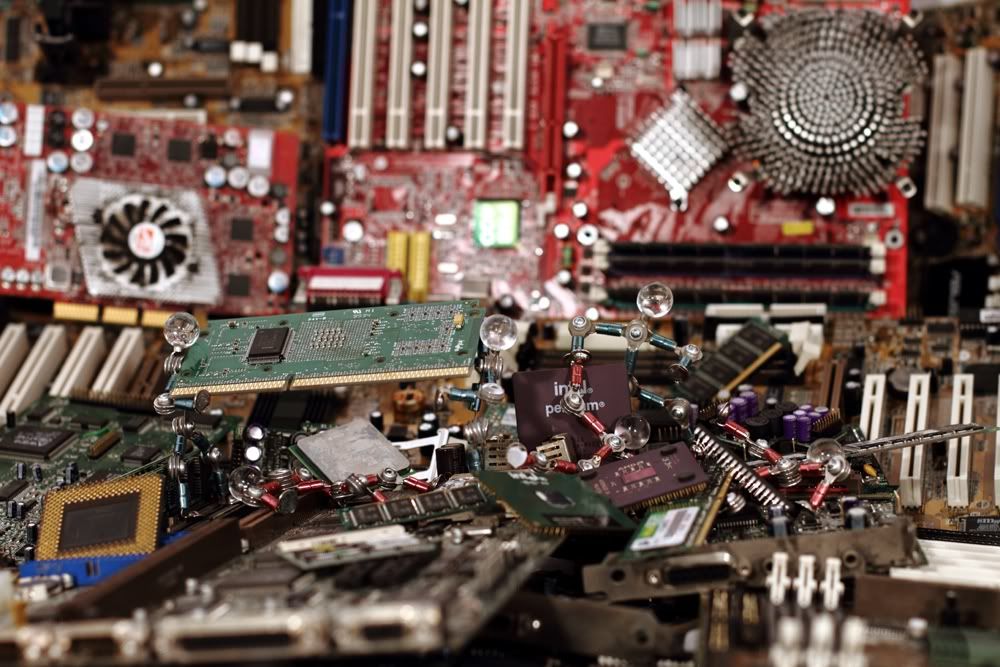 Look at all that destruction! One helpless acrobot is being pulled out from under an AMD Athlon Thunderbird, while a nearby friend is pulling herself free of a 128 MB stick of 133 MHz RAM, a Silicon Image controller chip, and other debris. Meanwhile, two strong acrobots struggle to lift a Pentium III cartridge off of their companion. There's lots of debris. Nightclubs such as the original Creative AWE, AWE64, and Live! are scattered about, as is the fancy Pro Audio Spectrum 16 Concert Hall. The Aureal Vortex 2 Jazz House is damaged, but no one's been there for years, anyway. The acrobots' housing looks mostly fine: various motherboards, including a slew of old Pentium boards (from an oldie with an S3 Vision864 chip, S82433NX bus controller, and Pentium 75 chip, to a K7N2 that safely and efficiently releases heat to the atmosphere), though some succumbed to the disaster. The ATi Radeon 9800 townhouses are still standing, though the old Trident buildings are demolished. Government buildings, including the SCSI, IDE, and bus extensions seem damaged, but the 3Com NICs are not beyond repair.
All in all, roughly three dozen pieces are represented here (some pulled from working machines).
There's a 1600 pixel-wide version (if one is required)
here
.