Hi all,
I recently purchased a barebone system from ebay here:
http://www.ebay.com/itm/Dell-Inspiron-300-Zino-1-6GHz-CPU-Barebone-Adpt-4FWY3-/350472490763?pt=Desktop_PCs&hash=item5199c9cf0b
. It's a Dell Zino 300 (Contains an Atom CPU) + Intel 945 Chipset.
When I got it, I noticed that the Intel chipset does not have a heatsink on it. So I went to my nearest retailer store (Microcenter) to look for a chipset heatsink. There are only 3 North Bridge heatsink available there. First I bought the fanless Zalman heatsink here:
http://www.microcenter.com/single_product_results.phtml?product_id=0253200
and noticed that this heatsink does not fit. So I went ahead and purchased all other available NB heatsink there and
NONE
fits. So I wondered that maybe this is a special Dell heatsink that they are using. I tried to search and search but nothing.
Now I'm seeking help that maybe you guys know where I can buy a low profile heatsink over the net. I took a picture for your reference: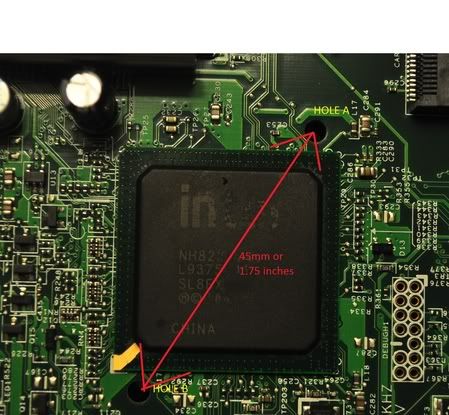 As you can see, using a normal ruler, the distance between hole A to hole be is around 1.75 inches or 45mm.
This computer will be running 24/7 until it dies. It will be located in a different country which is so hot all the time. If I don't put a heatsink on the chipset, I'm almost certain it will die ASAP.
Please help.
Thanks!