Is anyone else as excited about this new architecture as I am? Even if the performance only goes up by a small amount, it will introduce and support pretty much all the standards on the road map for the foreseeable future. I can't think of a better reason to upgrade, as it will likely last you many many years before retiring.
To fuel the discussion somewhat, Intel apparently aims to overtake AMD on the integrated graphics front:
http://www.dailytech.com/Intel+Says+Has ... e22002.htm
Intel has already released details on new instructions that will be included with Haswell:
http://software.intel.com/en-us/blogs/2 ... available/
The following is taken from the
Haswell Wikipedia page
:
Features carried over from Ivy Bridge


A 22 nm manufacturing process.

3D tri-gate transistors (Ivy Bridge processors and onwards).

A 14-stage pipeline (since the Core microarchitecture).

Mainstream up to quad-core.

Native support for dual channel DDR3.

32KB data + 32KB instruction L1 cache per core.

256KB L2 data cache per core and up to 32MB L3 cache shared by all cores.

Confirmed new features


Advanced Vector Extensions 2 (AVX2) instruction set, also called Haswell New Instructions (includes gather, bit manipulation, and FMA3 support).

New sockets — LGA 1150 for desktops and rPGA947 & BGA1364 for the mobile market.

Intel Transactional Synchronization Extensions (TSX).

Graphics support in hardware for Direct3D 11.1 and OpenGL 3.2.

DDR4 for the enterprise/server variant (Haswell-EX).

Expected features


32 nm PCH.

A new cache design.

Support for Thunderbolt technology.

There will be three versions of the integrated GPU: GT1, GT2, and GT3. According to vr-zone, the fastest version (GT3) will have 20 execution units (EU). Another source, SemiAccurate, however says that the GT3 will have 40 EUs with an accompanying 64MB cache on an interposer. An additional source, AnandTech, agrees that GT3 will have 40EUs, but makes no mention of an interposer. Haswell's predecessor, Ivy Bridge, has a maximum of 16 EUs.

New advanced power-saving system.

Base clock (BClk) increase to 133 MHz.

128 bytes cache line.

Execution trace cache will be included L2 caching design.

Fully integrated voltage regulator, thereby moving another component from the motherboard onto the CPU.

37, 47, 57W TDP mobile processors.

35, 45, 55, 65, 77 and ~100W+ (high-end) TDP desktop processors.

15W TDP processors for the Ultrabook platform (multi-chip package like Westmere).
And here are a couple
slides
that Intel has shown regarding Haswell: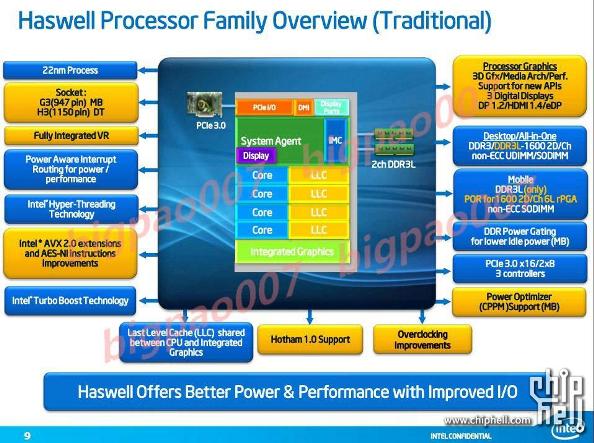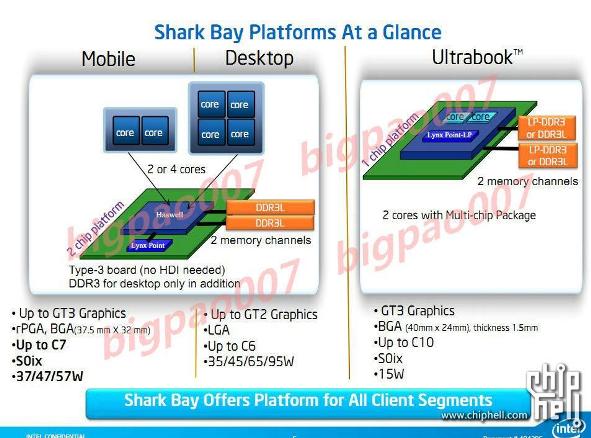 What are you all expecting from Haswell? Do you think we'll see significant IPC gains or will it be more towards IGP improvement than anything else?
I'm not sure exactly what AVX2/TSX will bring. What I'm hoping for the most is a better thermal interface than Ivy Bridge to help with overclocking.
Unfortunately for AMD, I fear this could be the final nail in the coffin, which would be unfortunate for all of us past 2013. They are so far behind...