Made my first yummy buffalo wings tonight. I made three batches, each better than the last, with room for improvement.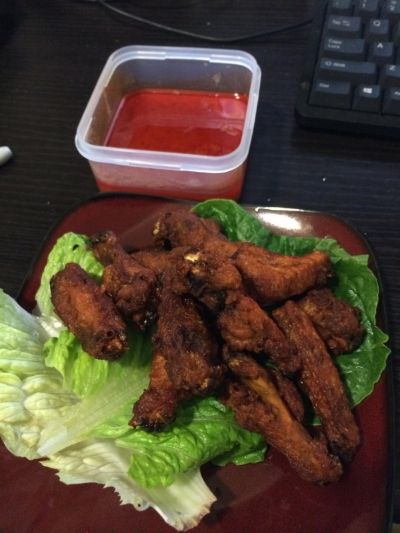 Pic is of the first batch (and the corner of my Type Heaven keyboard) which was a little overdone (the wings), but still delicious (the keyboard).
For deep frying, I used an induction burner, pot, store-brand canola oil, and a probe thermometer that went up to 400* F (not great, but that's all I have). I set the induction burner to 390* F. Some weird things happened, and I was wondering if any culinary physicists here could shed some light on what's going on.
The burner is set for 390* F. 6 cups of canola oil, and 10 wings that started at room temperature. The oil temperature climbs slowly up to 390*, then as soon as it gets there, I add the wings. Immediately the thermometer shoots up to 400* (its max) and sits there for a minute or so, then drops slowly to ~340*. The thermometer doesn't reach 390* again until the food has been in the oil for 8 minutes. Once it gets back there, it slowly makes its way past 400*, so I lower the induction burner to the next lowest setting, 360*, and let it fry for a few minutes.
1. Why does the temperature surge upwards immediately after I add the wings?
2. Is there a trick to keeping the oil hot, or heating it back up more quickly? The 'net is telling me that to deep fry For Real, the oil can't drop below 400*. I'm already using more oil than the recipe calls for in an attempt to keep it hotter, but it's clearly not working.