A while ago (the end of August) I purchased an ADATA SP550 that would be installed in my laptop.
I bought it based both on it being the cheapest SSD at that capacity and because the laptop with SATA I and USB 2.0 would limit it's speeds more than the other way around.
And there was one more reason: To test how an TLC SSD aside from one from Samsung would perform, and if it would have the same issue with read speed slowdowns that the Samsung 840/840 EVO have.
Before installing it in my laptop I tested it in my desktop computer and discovered two things: As soon as it's SLC-cache runs out (and it has to work directly towards it's TLC NAND) it's pretty slow.
And it gets pretty hot during use, it's temperature inside the desktop computer while having a fan blowing air directly at it, it still ran 5-10 degrees (41-50F) hotter than most of my SSDs when idle.
It hit 59 degrees (138,2F) after I had benched it in AS-SSD.
In my laptop after having done a lot of file transfers (even though it only had to keep up with USB 2.0 speeds) it reached 68 degrees (154,4F) which is it's current record.
I tested it's read speeds in early October (in the laptop which just has SATA I) to see if it had sunk low enough to notice, it still showed a nice straight line even if that line was of course limited to 150MB/s.
Seeing as not much time had passed I only performed that test and did not transfer it to my desktop computer to see if you would notice some read speed degradation when connected to a SATA III port.
In the middle of December I decided it was time for another test.
This time I did transfer it to my desktop computer because I thought that enough time may have gone by for it to develop issues with read speeds.
Here you can see the results of a test with HD Tune: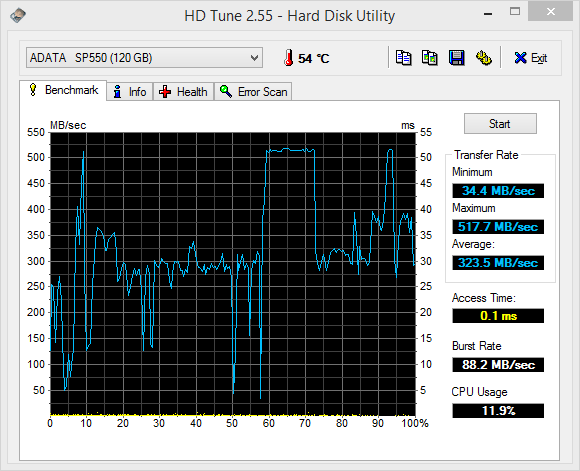 As you can see they show a similar pattern as the 840/840 EVO, slightly lowered read speeds with some serious drops in performance along with a nice straight line which would be the empty space on the SSD.
This was after the ADATA SP550 had been left unpowered (by my estimation) a month to a month and a half.
The results show that the ADATA SP550 does have similar issues to the Samung 840/840 EVO have in regards to static data.
After I had left it unpowered for another month it was time for the next test, where I allowed it to remain powered on in the computer for about a day after the first test to see if speeds would improve.
Here you can see test results from HD Tune: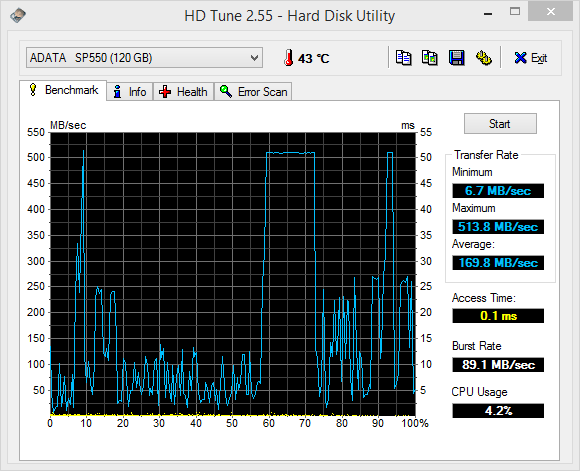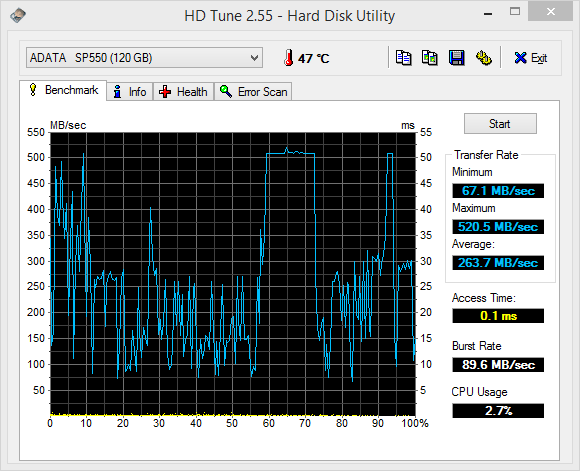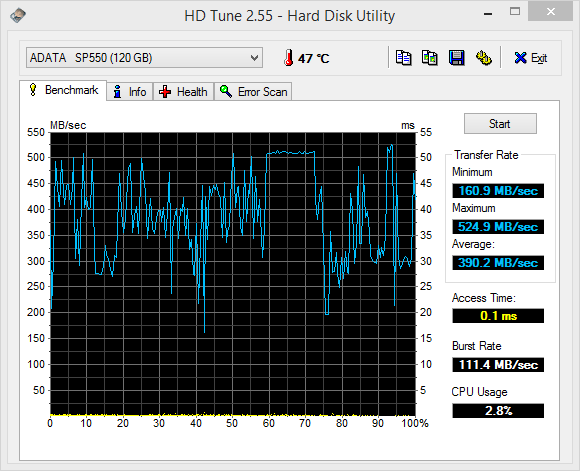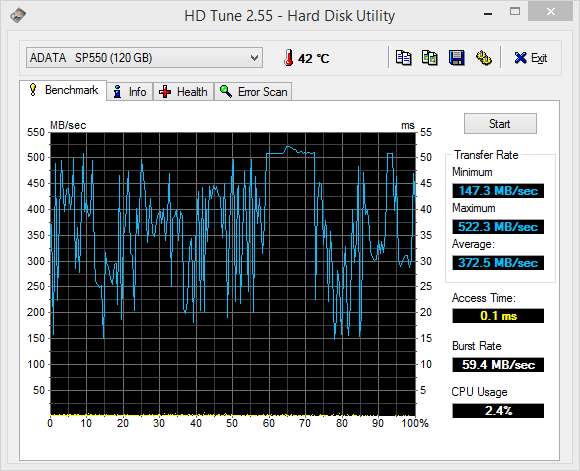 Read speeds do improve dramatically from the first to the second test, and do improve in general thereafter.
Keep in mind that I did perform a lot of reads, so it wasn't just fixing the read speeds while simply laying idle.
While running tests however I noticed something funny in Hard Disk Sentinel: Current Pending Sector Count had skyrocketed to 132,096 and then after a few minutes they disappeared despite no increase in reallocated sectors.
I'm guessing that would be the feature StaticDataRefresh at work, trying to fix those read speeds somehow, even if it did not appear to have rewritten any files on the drive.
Which you can see in this picture:
Admittedly, neither of these tests demonstrate that the ADATA SP550 would have issues with read speeds while in use where StaticDataRefresh can do it's job, something it cannot do when the drive is left unpowered.
However seeing as few seem to be testing read speeds for static data on SSDs whether left unpowered or seeing normal use this is (as far as I know) the best data we currently have on the ADATA SP550.
My tests of the ADATA SP550 have recently started over and I have added a number of other SSDs that will be tested alongside it with a new methodology.
In these updated tests I create a folder of files where the folder is named after the date of creation and varies in size from 10-30GB and the files are always 20MB.
After leaving the drive unpowered for a time I repeat the procedure.
The reason for my doing this is that it enables me to later use the SSD Read Speed Tester to see how much read speeds are affected based on the age of the files, and making them 20MB ensures that file sizes should not affect the results.
This will only work if any issues with read speeds appear of course.
Should that happen I will inform you.
Worth noting:
*Even though these results may be interesting it is worth remembering that they cover only one SSD in one situation, how temperatures during use or rest, if left unpowered or not affect read speeds for example is not covered in these tests.
*LDPC (which is included in the ADATA SP550) is about as strong as BCH ECC when the SSD has seen little wear, it is first when the SSD has seen a lot of wear that LDPC really comes into it's own.
And LDPC, while stronger in that scenario is not as fast as the more common BCH ECC.
*LDPC may also be used to use NAND that would otherwise be seen as having too low quality for use in SSDs especially in for example NANDXtend (also featured in the ADATA SP550) where it in conjunction with RAID-like data recovery is supposed to be able to increase endurance of TLC NAND up to three times of the original rating.
*That read speeds are slow does not necessarily mean that files have been corrupted,usually the ECC can fix errors given time and in the case of the ADATA SP550 it has three levels of ECC, two levels of LDPC and a RAID-like function should LDPC fail to correct any errors.